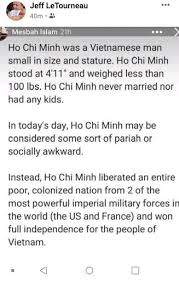 Over the weekend I noticed a Facebook post praising Ho Chi Minh, the communist dictator who invaded South Vietnam and killed thousands of his own people. The post was by Jeff LeTourneau, who just happens to be the V.P. of North Orange County for the Democratic Party of Orange County. His name may sound familiar as he was also one of the activists who tried to bring free drug needle distribution to Santa Ana a few years ago.
In the post LeTourneau praised how Ho Chi Minh liberated an entire poor colonized nation from two of the most powerful imperial military forces (the U.S. and France) and won full independence for the people of Vietnam.
What LeTourneau glossed over was the rest of what Ho Chi Minh did.
Ho Chi Minh is directly and indirectly responsible for the lives of 1.7 million Cambodians,12 2 million Vietnamese and possibly 230,000 in Laos.13 These are not war dead, but people murdered, starved to death and "reeducated" to death. In 1995 Vietnam revealed that they lost 1.1 million military dead14 during the war. As a percentage of their populations, Ho is responsible for as many deaths in Indochina as Mao Tse-tung was in China. (Source)
LeTourneau had forwarded the post to Facebook from another player in the Democratic Party, Mesbah Islam. Ninety minutes after LeTourneau posted it he was forced to remove it. He then posted an apology.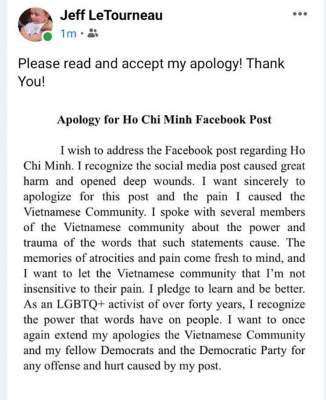 LeTourneau meant well but his post has created a huge P.R. disaster for the Democratic Party of Orange County just two months from the General Election in November. It has become a huge gift to what is left of the Republican Party of Orange County.
The Republicans now have something to rally behind as they try to unseat Democrats all over West Orange County. Little Saigon is now a battleground and the Republicans could come out ahead.
The only problem the Republicans will have to contend with is President Donald Trump's shadow. He is not polling well and he could drag down the entire GOP ticket in November.