Congresswoman Loretta Sanchez, Representing California's 46th Congressional District
PRESS RELEASE, FOR IMMEDIATE RELEASE: July 29, 2015
MEDIA CONTACT: Emily Morris, 202-225-2965, Emily.Morris@mail.house.gov
REP. LORETTA SANCHEZ CALLS ON HOUSE REPUBLICANS TO VOTE ON A LONG-TERM HIGHWAY BILL
WASHINGTON, D.C. – As House Republicans put forth yet another short-term stopgap solution and again fail to pass a long-term highway bill just so they can skip town early, Congresswoman Loretta Sanchez (CA-46) is pushing for Congress get back to work and provide robust, long-term funding for America's decaying infrastructure system.
Congresswoman Sanchez, speaking from the House floor, highlighted why Congress needs to finish the work they've started and delay an early August recess.
"We need to end these stopgap extensions," said Rep. Sanchez. "How will we fix a broken bridge, or a broken highway? Three months of highway funding just isn't enough for our states and localities to depend on."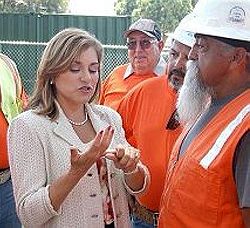 House Democrats provided a six year highway funding bill known as the GROW AMERICA Act. The bill would provide $478 billion over six years so states and local municipalities can address critical infrastructure needs. This common sense legislation would help pay for these investments by ending an unfair tax loophole and limiting corporate inversions, which prevents big corporations from renouncing their US citizenship in order to avoid paying their fair share of taxes.
"We need to stop slashing and start providing. We need to get away from this sequestration and patchwork funding mentality to actually fulfill our duty as public servants to the American people," Sanchez said. "Our families, our roads, and our economy deserve a highway funding bill that will invest in America's future, invest in better infrastructure, and invest in bigger paychecks for the hard-working families across this great nation."
###
Congresswoman Loretta Sanchez is proud to represent California's 46th Congressional District, which includes the cities of Anaheim, Santa Ana, and parts of the cities of Garden Grove and Orange in Orange County. She serves as Ranking Member of the House Armed Services Subcommittee on Tactical Air and Land Forces and as the second ranked Democrat on the Committee on Homeland Security.