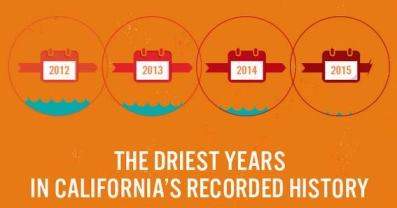 FOR IMMEDIATE RELEASE: June 4, 2015
CONTACT: Jacqui Nguyen @ (916) 651-4029
Drought is Now California's Greatest Concern
Senate Republicans Urge Democrats to Work Together to Find Sensible Solutions
California water woes are the highest on the list of concerns for voters as we enter our fourth year of a historic drought. The Public Policy Institute of California recently released a statewide survey as part of a series titled "Californians and their Government." According to the PPIC survey, 39 percent of Californians are most likely to name water and drought as the most important issues followed by jobs and the economy (20 percent).
In response to the PPIC findings, Senate Republicans urge their Democrat colleagues in the California Senate to work together to find sensible solutions to the Golden State's water drought. Back in May, Senate Republicans sent a letter to Governor Brown urging him to consider solutions for reliable and clean water.
Key findings from the PPIC survey funded from the James Irvine Foundation:
69 percent of Californians say water supply is a big problem
39 percent of Californians say water and drought as the most important issue
Five regions in California most concerned about the water drought are the following:

53 percent of Central Valley residents
42 percent of San Francisco Bay Area
37 percent in Orange/San Diego counties
36 percent in the Inland Empire
31 percent in Los Angeles
Senate Republicans issued the following statements:
"As a member of the Legislature, we need to listen to our constituents. It's time that our Senate Democrat colleagues stop playing politics and get down to real solutions for California. It is not enough for the Governor to issue mandatory water restrictions. Senate Republicans issued a letter to the Governor asking him to look at other sensible solutions such as considering building water projects," said Senate Minority Leader Bob Huff (R-San Dimas).
"Californians recognize that an abundant water supply is required for our lives and livelihoods. For years, my priority was to get a water investment package to the voters for their approval. This has been accomplished, and now is the time to make these investments quickly and thoughtfully to ensure water is available for drinking, food production and manufacturing," said Senate Republican Leader-elect Jean Fuller (R-Bakersfield).
"My constituents and I are deeply concerned about the Governor's promise to bring drought relief. To date, we've seen no movement toward solving the real problem: lack of water storage and delivery. The Governor must keep the promise made to voters and build the infrastructure necessary to solve the problem," said Senator Joel Anderson (R-Alpine).
"Californians are right to be concerned. Decades of putting fish before people have landed us in this horrible position and left us totally unprepared to withstand this drought. Building additional surface storage will go a long way toward protecting us in future drought years, but for right now, California is in bad shape and we need to make decisions that put people first," said Senator Tom Berryhill (R-Twain Harte).
"Planning for the future means building today. The fact of the matter is that California wouldn't be in this severe drought if we had more surface water storage. It is critical that we do everything we can now to speed new reservoir construction. We are paying the price for letting infrastructure investment dry up over the past few decades," said Senator Ted Gaines (R-El Dorado Hills).
"While the public is now focused on the difficulties caused by the drought, recent emergency measures passed by the Legislature and signed by the Governor continue to only scratch the surface in providing real relief," said Senator Mike Morrell (R-Rancho Cucamonga). "In light of these poll numbers, I think if Californians knew the water priorities of state bureaucrats, such as putting fish over people, they would be outraged."
"Citizens across California particularly those in the agricultural community are doing their part to conserve water. We all understand the gravity of this drought," said Senator Jim Nielsen (R-Gerber). "That's why it is unnecessary and excessive for the Governor to empower 'deputized staff' to impose fines of $10,000 on residents for non-compliance without due process."
"Unfortunately, it's no surprise that Californians currently see the drought and water supply as the biggest issue facing our state. The Legislature has voted on numerous bills that are unnecessary and do not address our water crisis. We should be focusing our efforts on increasing and protecting California's water supply. Conservation efforts are important, but we need to remember they are ineffective without additional water storage," said Senator Sharon Runner (R-Lancaster).
"California's drought is serious, and we need to do everything possible to save water. But more importantly, our state needs to start building more above-ground storage to capture water in wet years that we can use in dry years," said Senator Jeff Stone (R-Riverside County). If we have more storage, we can have more water for homes, farms and small businesses. It really is that simple. Our state needs to commit itself to putting water storage ahead of special interests who use lawsuits to stop building dams and reservoirs in our state."
"We need to make sure that water bond funds go to build Temperance and Sites Reservoirs, and that funds get clean drinking water to California's disadvantaged communities," said Senator Andy Vidak (R-Hanford). "It's time for leadership. Not delay."
BACKGROUND:
In February 2015, Senator Vidak introduced SB 127, known as the Environmental Quality: Water Quality, Supply and Infrastructure Improvement Act of 2014. SB 127 would streamline the environmental review process so that critical water projects funded by the 2014 water bond can be completed quickly.
For press inquiries or questions, please contact Jacqui Nguyen, Press Secretary for the Senate Republican Caucus at (916) 651-4029.
###