Garden Grove Councilman Chris Phan attended a fundraiser tonight in Santa Ana for Councilman David Benavides, who is running for reelection.  Phan proudly posted about this on his Facebook page.  But Phan is a Republican and Benavides is a liberal Democrat.  What gives?
Phan by the way has been running for the OC Board of Supervisors for some time.  He is hoping that First District Supervisor Janet Nguyen, a Republican, beats Democratic nominee Jose Solorio, as they face off in November for the 34th State Senate District.  A Nguyen victory would mean her seat on the OC Board of Supervisors would open up.
But what the heck is Phan doing hanging out with the likes of Benavides?  For the uninformed, Benavides has been one of the ringleaders of Orange County's most dysfunctional City Council, in Santa Ana.  This is an all-Democrat City Council.  But Benavides is the worst of the bunch.  His big idea in the past two years has been to let bars in Downtown Santa Ana stay open until 4 am.
Benavides was also involved in firing Santa Ana City Manager Paul Walters, who had performed so honorably as Chief of the Santa Ana Police Department before taking over as City Manager when Dave Ream retired.  Walters saved Santa Ana from certain bankruptcy – and then Benavides and company fired him.  They replaced him with Orange County's most overpaid City Manager, David Cavazos, a fellow who raised every tax he could when he was the City Manager of Phoenix, AZ. Cavazos also spiked his pension with a last minute raise in Phoenix, before screwing his constituents and heading to California.
Benavides ran in 2012 against popular Santa Ana Mayor Miguel Pulido.  While Pulido is a Democrat he is a moderate and he is very pro business.  Republicans in Santa Ana have always supported Pulido.  And they did so again in 2012 as Benavides got spanked in the General Election.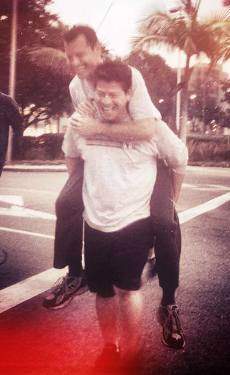 Two Peas in a Pod – David Benavides and Roman Reyna
This year Benavides recruited his BFF, Councilman Roman Reyna, to run against Pulido.  Reyna literally has only ever worked in parks and recreation. He is thought to have dropped out of school in the tenth grade and his brother, reportedly, died in prison.  Reyna hung out with Benavides and Phan tonight.
Please note that Reyna and Benavides were also part of the Council cabal that voted to get rid of the SAPD's SWAT team and gang task force.  Phan is a Deputy District Attorney and these guys are who he chooses to hang out with?
So why would Phan hang out with such reprehensible Democrats?  Well could it be that he is trying to convince them all to vote for Janet Nguyen in November so he can then take her job?
Phan is said to be a nice guy but he is hanging out with the wrong people and interloping in Santa Ana politics, which quite frankly are none of his damn business.  I will remember this when and if he does run for OC Supervisor.