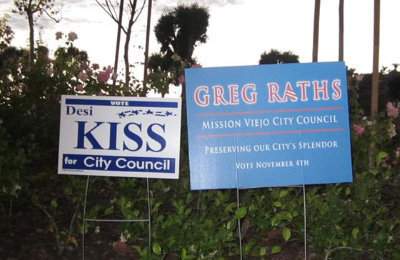 Desi Kiss, a candidate for the Mission Viejo City Council, is reporting that "They recently started to steal my yard signs and at lest the signs of at least one other candidate in MV."
Kiss had this to say about the sign nabbing:
Did you know that stealing political signs is punishable by up to 1 year in prison? Recently in Mission Viejo several yard signs have disappeared from both private and public property including those of City Council Candidate DESI JOSEPH KISS. Please make a note: DO NOT STEAL, you are being watched, and if cut you will be prosecuted to the full extent of the law. Thank you. After posting a note on my FB page City of San Juan Capistrano Council member Greg Acho posted comments of support and offered a reward for those cut on video stealing my yard sign.
Below please find SJC Council member candidate Greg Acho's comments and reward offer on the MV yard sign issue:
Greg Acho: What a shame. Community members need to take cell phone pics and video of anyone touching a Desi Sign. Have them upload to your Facebook page, maybe even offer a small reward? "Catch someone stealing a Desi sign on video and get 2 free tickets to an Angels game"! Nothing like a little community incentive when you can't rely on the basic honesty and integrity of other candidates.

Greg Acho: In fact, I will take it a step further. My company CTE Media Group will pay the reward! Anyone who catches someone ON VIDEO stealing, moving, or tampering with a Desi Kiss City Council sign and uploads it to our facebook page will receive 2 tickets to an upcoming Angels Game! Upload your video at the CTE Media Group Link above! VOTE Desi Kiss! (p.s. don't try to fake it with your friends unless you want to be part of the police investigation)