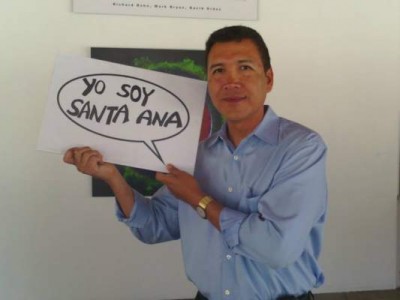 Santa Ana Councilman Vince Sarmiento has reportedly pulled papers to run for Mayor of Santa Ana, hours after State Senator Lou Correa also pulled papers.
There is still no word as to whether or not longtime incumbent Mayor Miguel Pulido will in fact run again this November.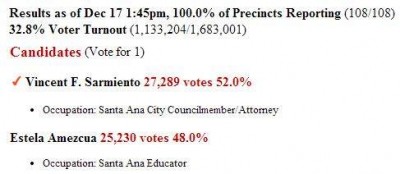 Sarmiento barely won re-election in Santa Ana's Ward 1 in 2012, edging out the unknown Estela Amezcua by just 4% of the vote, according to Smart Voter.  Amezcua did not campaign and did not spend any money while Sarmiento may have spent over $150K in his weak campaign.
So why would Sarmiento enter the Mayoral race now that Correa is in?  I suspect this is pure ego on display by Sarmiento.  He cannot possibly compete against Correa.  But I suppose it is his way of saying that he will not lay down for Correa.  Apparently he was fine with his Council colleague, Roman Reyna, running for Mayor even though Reyna may be the least qualified Mayoral candidate on the Council.
Don't be surprised if former Santa Ana Council Member Claudia Alvarez jumps in to this race as well.  But she has burned so many bridges that I can't see her prevailing in this one.
Correa already has hundreds of thousands of campaign dollars on hand.  And he doesn't have the taint that the Council Members have been tarred with as they have steered Santa Ana into one mess after another.  I think the voters will strongly appreciate Correa's ability to leverage his connections in Sacramento and in DC on behalf of our city.
Correa, as a Mexican-American, also has broader appeal to Latino voters in the area than Sarmiento, who is of Bolivian extraction.