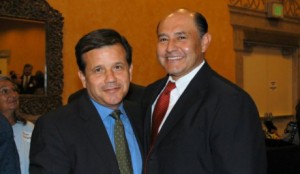 An inside source has tipped us off that State Senator Lou Correa has pulled papers today to run for Mayor of Santa Ana.  Correa is terming out of his State Senate seat this year.
This likely means that Santa Ana Mayor Miguel Pulido will not be seeking re-election himself.
Other candidates for Mayor include first term Santa Ana Councilman Roman Reyna and Mark I. Lopez.  Other candidates may jump in but will have a very hard time contending with Correa who has served the area in both the State Assembly and in the State Senate for many years.
We scooped everyone in the OC when we first reported Correa's interest in running for Santa Ana Mayor back on July 8, 2014.
The Voice of OC also reported that Correa had pulled papers to run for Mayor.  Here are a few excerpts from their article:
Political insiders say Correa (D-Santa Ana) and Pulido are locked in a game of political chicken regarding the November election. One rumor has Pulido considering retiring as mayor, which would allow Correa to run without the challenge of a powerful incumbent.

The two have been in talks about just that possibility, according to multiple sources. Correa has declined to comment on his candidacy and Pulido hung up on a reporter Monday seeking comment.

That Pulido hasn't filed, though he pulled papers weeks ago, is fueling the speculation regarding his possible retirement. However, Pulido could simply be biding his time.

Rumors are also flying that, with Correa's move to pull papers, other candidates – such as Councilman Vincent Sarmiento and former Councilwoman Claudia Alvarez – could pull papers as soon as Monday afternoon.
I have heard the same rumors regarding Sarmiento and Alvarez.  But Sarmiento barely beat an unknown, unfunded opponent when he won re-election to the Council in 2012.  He is in no way as popular as he thinks he is.
And Alvarez damaged herself with remarks about a Jewish landlord in Downtown Santa Ana a few years ago that probably ended her chances at winning a seat on a judicial bench.
Correa's only real opponent is Pulido and while some of my sources say Pulido is still in it I will believe that when I hear it from Pulido himself.
Correa has a giant campaign war chest and is very popular in the area.  But Pulido is popular with local Republicans while Correa, who like Pulido is a moderate, angered Republicans when he supported a state tax increase a few years ago.