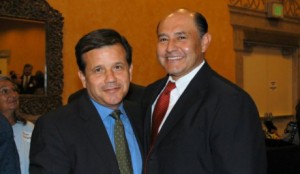 Posted on 7/8/14 at the New Santa Ana Blog
Could State Senator Lou Correa, who is terming out this year, be thinking of running for Mayor of Santa Ana?  That is what I heard today from Vern Nelson, the editor of the Orange Juice Blog.  Nelson cited an anonymous source in Sacramento when I spoke with him this afternoon.
It makes a lot of sense.  Correa has huge name I.D. and he lives here in Santa Ana, in the Floral Park Neighborhood.  Why not run for Mayor?
I suppose it depends on what our current Mayor, Miguel Pulido, will do in November but it sure looks like me might retire from local politics.  And even if he didn't, a Correa campaign would squash him and anyone else.
What about the other mayoral challenger?  You know, Councilman Roman Reyna.  No worries.  He simply isn't fit to be Mayor and a Correa campaign would squash him too.
You have to wonder if Correa would later advocate to turn our Mayor's office into a full time job – the strong Mayor model.  But then again I suspect Correa will get a lucrative job as a consultant and/or a lawyer after he leaves Sacramento.
Mayor Correa?  It has a nice ring to it!  And he is such a strong personality that the limp-wristed Council Members would have no choice but to bow down.  He is a good man and would make, I think, an awesome Mayor.  He is also a moderate and that is a good thing in a community that isn't liberal at all, but is largely Democratic.
Might Correa run for Supervisor instead, if the incumbent, Janet Nguyen, defeats Jose Solorio in November?  I suppose he might but then again he might be happier working somewhere as a consultant while serving as our Mayor.