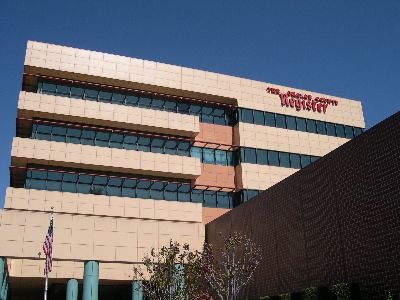 Freedom Communications, owner of the Orange County Register, is putting the newspaper's longtime five-story, 175,000-square-foot and nearly 16 acres of land in Santa Ana off the I-5 Freeway on Grand Avenue and adjacent property on the market, according to the O.C. Register.
Aaron Kushner, Freedom chief executive and publisher, said in a year-end letter to the staff said if the company does not lease back the existing space, the newspaper will move to another Santa Ana location.
Real estate experts estimate that the Register building alone could sell for $20 million to $25 million.
Freedom sold its former Irvine headquarters seven months after putting it on the market back in August of last year, for $2.67 million – about $50,000 below the asking price, according to the O.C. Register.
With no newspaper experience, Kushner acquired Freedom last year for $50 million and the assumption of pension obligations worth more than $110 million. He quickly set about hiring hundreds of editorial employees, launching a new daily in Long Beach and greatly expanding the number of pages in the flagship Register, according to the Los Angeles Times.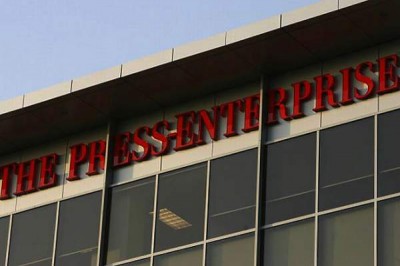 And in November Freedom completed a $27.25 million deal with Dallas-based A.H. Belo Corp. to buy The Press-Enterprise, a daily newspaper in Riverside, according to the O.C. Register.  That deal included the Press-Enterprise's production facility, according to the Dallas News.
Now why would the O.C. Register need production facilities in both Santa Ana and in Riverside?  Of course they don't.  I fully expect them to move all print production to Riverside.  The employees in that area make less money per hour too.
So who will move into the O.C. Register's Santa Ana facility, which includes the Spanish language weekly, Excelsior?  My sources tell me that the OCTA is looking into the possibility of buying this property, after a deal with the State Fund building fell through.  Santa Ana Mayor Miguel Pulido wants the OCTA to relocate into Santa Ana.  They are currently working out of an office tower in Orange.
Kushner took out high interest loans when he first bought the O.C. Register.  There is no way to know if his company is even making any money at this point.  They shut off their website to non-subscribers and thereby devalued what had been a popular Internet destination.  Even worse they charge the same for digital subscriptions as they do for paper delivery – making it a bad deal.
I can't see any of this working out for Freedom or Kushner in the long run.