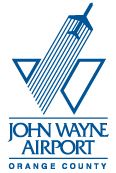 FOR IMMEDIATE RELEASE: September 12, 2013
Contact: Jenny Wedge, Office: (949) 252-5182, jwedge@ocair.com
BOARD OF SUPERVISORS APPROVES AGREEMENTS FOR ENVIRONMENTAL REVIEW OF PROPOSED JOHN WAYNE AIRPORT SETTLEMENT AGREEMENT AMENDMENT
SANTA ANA, Calif. – At its regularly scheduled meeting Tuesday, September 10, the Orange County Board of Supervisors approved Architect-Engineer Agreements with five consulting firms that will prepare an Environmental Impact Report (EIR) for proposed amendments to the John Wayne Airport Settlement Agreement.
The five firms, selected through a competitive bid process, are:
AECOM – Aviation Analysis
BonTerra Consulting – EIR Preparation
ENVIRON International Corporation – Air Quality Analysis
Fehr & Peers – Traffic Analysis
Landrum & Brown, Incorporated – Noise Analysis
The purpose of the EIR is to identify environmental impacts associated with a proposed 15-year extension of the John Wayne Airport Settlement Agreement. The first step in the environmental review process will be the issuance of a Notice of Preparation (NOP) in October 2013. The NOP is intended to notify specific parties that an EIR is being prepared. It includes a description and the location of the project as well as probable environmental effects of the project. A Draft EIR presenting the results of the environmental analysis is expected to be published in the first quarter of 2014 and will be available for public review and comment. Following the public comment period, the Draft EIR is scheduled to be presented to the Board of Supervisors for its consideration in the summer of 2014.
The Settlement Agreement, created in 1985, formalized consensus between the County of Orange, the City of Newport Beach, the Airport Working Group (AWG) and Stop Polluting Our Newport (SPON) on a set of defined facility and operational improvements for John Wayne Airport and a related set of environmental protections. The Settlement Agreement was amended and extended in 2003 and is currently set to expire on December 31, 2015. To learn more about the Settlement Agreement and the proposed extension, visit www.ocair.com/communityrelations/settlementagreement/.
# # #
John Wayne Airport (SNA) is owned by the County of Orange and is operated as a self-supporting enterprise that receives no general fund tax revenue. The Airport serves approximately nine million passengers annually and reaches more than 20 nonstop destinations in the United States, Mexico and Canada. More information can be found at www.ocair.com or at facebook.com/johnwayneairport or on twitter.com/johnwayneair.