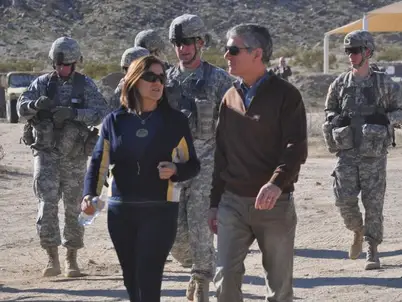 Congresswoman Loretta Sanchez, Representing California's 46th Congressional District
PRESS RELEASE, FOR IMMEDIATE RELEASE: July 24, 2013
REP. SANCHEZ PRESSES PENTAGON OFFICIALS ABOUT TIMETABLE, STANDARDS AND LEADERSHIP OPTIONS FOR WOMEN IN COMBAT
WASHINGTON, D.C. – U.S. Representative Loretta Sanchez (CA-46), senior member of the House Armed Services Committee and founder and chair of the Congressional Caucus on Women in the Military, today pressed top Department of Defense officials on the status of the implementation of integrating women into combat roles during a House Armed Services Subcommittee on Military Personnel hearing.
"I've been a longtime, relentless advocate for allowing women to serve in combat roles in the military. As the Pentagon continues to implement women in combat policies, there are several issues that must be addressed.
"The Pentagon must stay committed to the timeline it has set for itself. This policy is already overdue and women who want to and are ready to serve should not have to wait any longer. I hear from too many women who are concerned that by the time the positions are finally open they will no longer be good candidates for them. These women are ready to serve now.
"As we implement the policy, we need to make sure occupational performance standards, both physical and mental, are accurate and reflect the true requirements of the positions. Current standards may punish women unnecessarily and that is not acceptable.
"Lastly, we need to ensure there are pathways for women to enter leadership roles. Trained and seasoned women in positions of leadership are essential for the next generation of women to succeed.
"Despite these challenges, I am pleased that the ball is rolling on this historic and long-overdue change. Opening up all roles to women will ultimately strengthen the military and our nation."
Congresswoman Loretta Sanchez is proud to represent California's 46th Congressional District, which includes the cities of Anaheim, Santa Ana, and parts of the cities of Garden Grove and Orange in Orange County. She serves as Ranking Member of the House Armed Services Subcommittee on Tactical Air and Land Forces and the second ranked Democrat on the Committee on Homeland Security. Rep. Sanchez is also a member of the fiscally conservative Blue Dog Coalition and sits on the bipartisan, bicameral Joint Economic Committee.
# # #
MEDIA CONTACT
Barb Solish, 202-226-8373
Barb.Solish@mail.house.gov