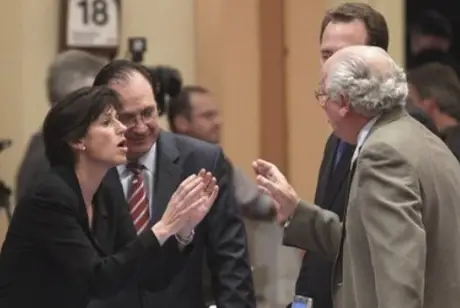 Five CA GOP state senators back $2 billion tax increase
By John Hrabe
With a Democratic supermajority, Republican votes no longer are needed to increase taxes in the California Senate. Yet in a strange development, five GOP senators backed a tax increase anyway.
SB 11 is a $2.3 billion tax "extension" co-authored by a Democratic state senator, Fran Pavley of Calabasas; and by a Republican state senator, Anthony Cannella of Ceres. It passed the full Senate, 32-5, with two not voting and one vacancy.
Of the votes, 27 were from Democrats, or 67.5 percent, which was above the two-thirds supermajority threshold in the 40-seat Senate to raise taxes.
Yet in addition to Cannella, Republicans voting for it were Senate Republican Leader Bob Huff of Brea and Sens. Bill Emmerson of Redlands, Jean Fuller of Bakersfield and Mimi Walters of Irvine. Although Cannella did not, the latter four all signed the Americans for Tax Reform's Taxpayer Protection Pledge, a solemn promise never to raise taxes.
Total: Out of the Senate Republican Caucus' small membership of 11, five voted for SB 11.
The Senate Republican Caucus' own analysis identified the bill as "the continuation of billions of dollars of vehicle registration fees and tire taxes for eight years." Yet not a single Senator, Republican or Democrat, spoke against the bill.
None of the Republican senators who signed the anti-tax pledge responded to CalWatchdog.com's request for comment on their tax flip-flop. A spokesman for Huff referred comment to a YouTube video (provided below), in which Huff referenced his vote.
"What we did this week was we extended fees for smog abatement, registrations, tire purchases," Huff said in a 40-second explanation of his tax extension vote. "I wouldn't normaly do that. But the bill was tied to easing regulations, burdens imposed on gas stations, truckers, ag equipment. And so it was one of those situations where you were taking a bad situation and making it better. "
GOP analysis: Tax extension is "hefty price to pay" 
Huff's argument that industry incentives are worth a multi-billion-dollar tax increase is disputed by his own caucus.  An internal Senate Republican Caucus bill analysis obtained by CalWatchdog.com found:
"The continuation of billions of dollars of vehicle registration fees and tire taxes for eight years is a hefty price to pay. This bill would result in fee extensions of $8 in smog abatement, $18 for vehicle registrations, $10 on boat registrations, and $0.75 per tire on consumers annually until the year 2024.
The analysis included an all-caps warning that the bill imposed "VERY MAJOR STATE COSTS AND REVENUE INCREASES." And it quoted this analysis from the Howard Jarvis Taxpayer Association:
"SB 11 has been keyed as a two-thirds vote tax increase. The cumulative impact of these exactions will result in a $2.3 billion tax extension."
Click here to read the rest of this article.