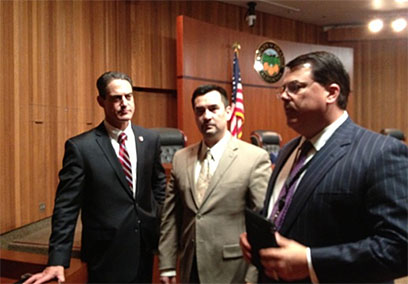 Did you watch the Orange County Supervisors this week when they interviewed Renee Ramirez, who assisted the former Orange County Clerk-Recorder Tom Daly?  Something interesting came out of that interview.
Supervisor Todd Spitzer asked Ramirez about a standing order for polo shirts, which I believe amounted to about $3,500 per order.  He then asked if she knew who the vendor was.  She didn't.  But Spitzer did.  The canny former O.C. Prosecutor knew that the vendor in question went to high school with Daly.
And there's the rub.  There is no telling how much money Daly wasted.  As Clerk-Recorder he was running a department that is funded by user fees.  He didn't have to tell the Supervisors how he was spending that money.  And he had a large slush fund, which was supposed to be for technological improvements, that he apparently pilfered regularly.  How?  We just don't know – yet.
But newly appointed Clerk-Recorder Hugh Nguyen is going to find out what happened and he is likely going to put in place new spending controls that will at last bring order to a department that was reportedly misused by Daly.
One of the benefits of appointing Nguyen to this job is that he is going to hit the ground running.  He already knows the employees in the department.  He knows how the County works.  Expect that he will focus first on building his management team then watch out – the audit will come quickly and the results will be very interesting.
Daly has to run for relection in 2014.  By then we are all going to know what a mess he made of the Clerk-Recorder's office, including paying his buddy and former staffer Jordan Brandman $24,000 for a piece of junk report that was turned in late and had little value.
We will all know soon enough who Daly hired and who he gave contracts to and I suspect this is going to be an ugly mess indeed.
Nguyen was the right man for the job and soon everyone will know his name, because it is very likely that his investigation is going to help bring down a career politician – Daly – and maybe his protege Brandman too.