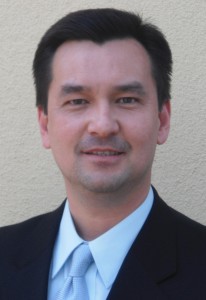 "On a 4-1 vote after a marathon interview session the Orange County Board of Supervisors voted to appointed Hieu Nguyen to the position of Orange County Clerk-Recorder," according to the OC Political blog.
This is such great news!  For once a non-politician got the job and believe me, Nguyen is most qualified to be our Clerk-Recorder.
I texted him today after his interview and asked how it went. He said he thought he did well, but he was nervous and stumbled a bit.  I bet that helped his case!
Nguyen lives in Santa Ana with his wife and family.  He is a graduate of Santa Ana's public schools.  He worked for the last decent Clerk-Recorder, Gary Granville, who died in office.
This is an epic moment of course for Orange County's Vietnamese community.  I wonder which Supervisor voted against him?  Update – I just found out that Supervisor John Moorlach voted against Nguyen.  Moorlach was pining for Bruce Peotter, who is a nice guy but has no clue about what Clerk-Recorders do.
Nguyen's first task should be to launch an investigation of former Clerk-Recorder Tom Daly's shenanigans.  And he should immediately suspect Daly's longtime assistant, Renee Ramirez.  There should be a good case to fire her after she tried to cover up the mess she made of the questionable contract Daly worked out with Jordan Brandman.  Daly agreed to pay Brandman $24K for a report about whether or not to open a new Clerk-Recorder's office in West Orange County.  No, we don't need another office!  In fact Nguyen should act to close the Fullerton office.  Perhaps he can rid the Clerk-Recorder's office of the empty building Daly bought in Downtown Santa Ana, that was never used.
Nguyen has been a friend of mine for years but now that he is a County official I expect I won't be hearing much from him.  That's OK.  I am proud of him and wish him the best.  I will be here to help when he as to run for re-election.  It should be noted that he has been assisted by political consultant Scott Hart and by his friend Dale Dykema.  Both of them deserve much credit for standing with Nguyen against withering pressure from the politicians who wanted to replace Daly.
Former State Legislators Chris Norby and Dick Ackerman will now have to get real jobs. I would love to see Norby go back to teaching.  We need a Libertarian leaning professor at CSUF – or at UCI.