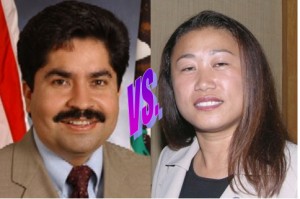 From the New Santa Ana Blog
The Rancho Santiago Community College District's Trustees voted 5-2 tonight to  authorize their Chancellor to negotiate a Project Labor Agreement with the Los Angeles/Orange County Building Trades Council.
Impressively their Student Trustee, Ryan Ahari, voted against this debacle.  I am told he is a fan of Ron Paul.  He might be the smartest Trustee!  His vote doesn't count unfortunately. Republican Phil Yarbrough and independent Arianna Barrios were the only no votes.
What does this mean? It means that the RSCCD will hire only union contractors when spending the Measure Q bond money that is coming from our property taxes.  This means they will have less bidders, as non-union contractors will be shut out.  That means higher prices – which is to say that our tax money will be wasted in order to feather the union members' nests.
Several of the Trustees said some incredibly stupid and incorrect things in the process.  John Hanna, who told me a few years ago that he would never again vote for a PLA, tried to change the name of this deal from a PLA to a "community and student workforce agreement."  He admitted though that it was still the same deal – a union only PLA.  The board voted unanimously to change the name of this disaster.  But it is still a PLA.
Jose Solorio tried to delay the vote, sensing that he was giving a huge gift to his GOP opponent for the 34th State Senate District, Janet Nguyen.  That didn't fly either.
Hanna said that PLAs are important for safety.  I have to call BS on that.  Every contractor abides by the same Cal/OSHA standards.
Click here to read the rest of this post.