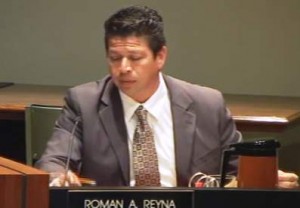 Councilman Reyna is now another government worker
This article uses material from the New Santa Ana blog
New Santa Ana Council Member Roman Reyna's official city bio says he is now a "Case Manager," at the County of Orange, Department of Education.  Who knew you could work in the Department of Education with only a high school diploma?
Sources are telling me that Reyna was allegedly fired from his last job at the YMCA.  If true did he admit this to his new employer?  And why was he fired?
Reyna previously worked at the Santa Ana Boys and Girls Club and before that he worked in the Santa Ana Parks and Recreation Department.  I am not sure how all of that qualifies him to do his current job.  Could it be that Reyna, a former SAUSD Trustee, pulled strings with the new head of the O.C. Department of Education, Al Mijares, who of course used to the be the SAUSD Superintendent?
The worst part of this is that now the Santa Ana City Council has several government workers.  Mayor Pro Tem Sal Tinajero is a public school teacher in Fullerton and New Council Member Angelica Amezcua is a Santa Ana public school teacher.  All of these government workers now have dual pensions and will be double dipping in their retirement, at public expense.
The rest of the City Council includes a realtor, David Benavides, an engineer/consultant, Pulido, and a lawyer, Vince Sarmiento.
It is by the way worth noting that the SAUSD now apparently has a $16 million dollar deficit, and the City of Santa Ana owes the State of California over $56 million dollars.  Clearly Reyna lacks the golden touch!
A sobering closing thought – this bunch will have to negotiate a new contract with the Santa Ana Police Officers Association later this year.  How will government workers do that responsibly when they are also public employees?