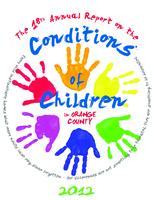 Supervisor Pat Bates & the Orange County Children's Partnership invite you to discuss the Conditions of Children in Orange County, at a Community Engagement Forum scheduled for this Friday, February 8, 2013, from 8:30 am to 12:00 pm.
Special Discussion Topic: Childhood Immunization.
Event Location: Mission Hospital Conference Center, at 26762 Crown Valley Pkwy., in Mission Viejo.
Receive a copy of the 18th Annual Report on the Conditions of Children In Orange County
Hear Report Highlights & Data Trends
Provide Input on Strategies to Impact Key Indicators
Information Presented on:
Low Birth Weight
CalWORKs
STEM
Bullying
Brought To You By:
County of Orange, Children & Families Commission of Orange County, California State University Fullerton, Orange County United Way and Orangewood Children's Foundation.
Click here to register for this event.