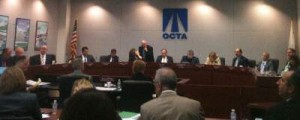 The nonsense described in this post, Supervisors Taking Issue With OCTA Board Majority, from Thursday's union-funded Voice of OC suggests it's time to expand on an idea we've offered in here before — the 17-member Orange County Transportation Authority Board ought to be ELECTED.
Adam Elmahrek's piece well details the infighting, professional immaturity and malfeasance that's developed on this too large Board of Directors that's responsible for the OCTA and its $1.1 billion budget.  This Board could easily be downsized to a more effective group at least half its current size, say seven or nine people.  The non-voting Caltrans representative can be eliminated as worthless.
More importantly, it's time that the Board be composed of tax-paying citizens who wish to serve and have the financial, legal and/or engineering background to contribute to higher-quality decision making and condone no (OK, less) politicization of the spending approval process.  Presumably, "ordinary" citizens (without vendor conflicts) have fewer favors to pay back or axes to grind than today's collection of Supervisor or Legislator wannabes.
Simply put, the Orange County political class that's been running this agency for the last forever doesn't have the necessary technical experience or financial prudence to oversee the OCTA's primary tasks of funding, construction, maintenance and operation of  bus systems, freeways, ACCESS and rail.
Currently the Board is composed of the five elected County Supervisors, two committee-recruited Public Members (citizen volunteers selected at-large, but not apolitically) and ten representatives, two each from the five Supervisorial Districts.  For the last round of selections, ten District Directors were chosen by a group of (all?) County Mayors via an undocumented process and, presumably, voting that was unreported in local media or on the OCTA website.
Per this link, Board compensation range from $1,096 to $29,187 annually, plus there are substantial benefits.  Particularly, healthcare benefits are known to be good — former HB Mayor Cathy Green, one of the most ineffective and brainless Directors ever on that dais, fought like hell to maintain hers, on top of what she was already receiving from her city.  These positions can be fairly lucrative, and are certainly exposed to the vendor community for future benefit.
These Director positions are prized resume builders for ambitious city council members and seem awarded via political tradeoff and cronyism, and not by a more principled and fair evaluation of an individual's actual ability or experience.  In familiar vernacular, it's simply the "good ol' boy" network at work.  Further, it's long past time that perennial members of the Board like Santa Ana Mayor Pulido and the feckless Greg Winterbottom make way for fresher, smarter Directors without their own agendas.
Orange County taxpayers have seen Measure M twisted into possibly paying for nonsense like toll lanes on the I-405, its PR needs, a $184 million train station for high-speed rail that isn't coming to the OC, a failed light rail project that still cost $67 million, two unjustifiable, plain stupid streetcar projects estimated at an extraordinarily expensive $499 million, the Go Local abomination, a $50 million cost overrun for the SR-22 Freeway widening for HOV lanes and countless other wasteful projects.  Earlier this year the Board was able to rubber-stamp an enormous bus fare increase for the transit-dependent that was recommended by its CEO and staff as OCTA was being threatened with the loss of state funding.  No reaction or objection to the State was reported.
For the inventory of debacles mentioned above, not a one also ever got to a city- or county-wide ballot — perhaps that's something else an elected Board should support, especially for projects above certain dollar amounts or completion times, or found controversial by certain criteria.  We wrote previously that the Anaheim streetcar debacle should be approved by the city taxpayers:  Anaheimers need to VOTE on development to counter Council corruption and incompetence.  The same can be said for Miguel Pulido's streetcars in Santa Ana that are being planned by his political pals at Cordoba Corp. who snuck a bid through the process.
The elected composition of our School Boards, Community College Districts, Water, Park, Library or Sanitary Districts is all the precedent we need to support this notion.  The only clear reason the OCTA Board has permanent members (the Supervisors) and members picked by the mysterious and NON-transparent process of a Mayoral forum is to ensure that political relationships are maintained or strengthened, favors are delivered and debts are incurred (in the past, this process was even more political and patronistic as the left-leaning League of Cities was involved).  For the ten new incoming Board members the VofOC discusses, all are elected politicians, and none are especially known for any experience in transportation, its enormously complicated financial needs or its technical requirements.  Election to a city council does NOT qualify one to sit on a powerful agency board.
The fiscally experienced and technically educated folks we really need on a powerful Board of Directors such as OCTA's with so much tax allocation responsibility are precisely the ones that are denied membership.  Like a School Board, there are no logical or sensible reasons why OCTA Directors can't be elected by the voting public — only political ones.