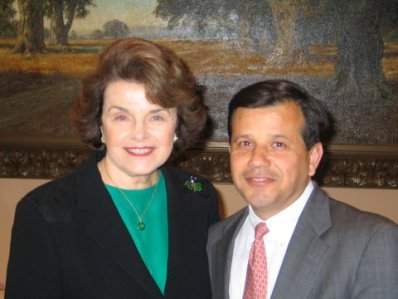 PRESS RELEASE, FOR IMMEDIATE RELEASE
November 1, 2012
Contact: Pulido Campaign, 714-542-3567, Email: mayorpulido@mayorpulido2012.com
U.S. Senator Dianne Feinstein endorses Santa Ana Mayor Miguel Pulido
SANTA ANA – U.S. Senator Dianne Feinstein (D-San Francisco) has announced her support for Santa Ana Mayor Miguel Pulido. Since he was first elected to the Santa Ana City Council in 1986, Mayor Miguel Pulido has been a major force in the renaissance and economic revitalization of the City. He is currently serving his sixth term as Mayor and has proven to be a leader, not only within the community, but regionally and nationally.
Mayor Pulido has focused his efforts on improving the quality of life for all Santa Ana residents. During his tenure the City has experienced a 58 percent reduction in crime, an increase in home values, a rise in the number of business licenses, an enhancement of the economic opportunities for the private sector, an overall revitalization of the City's infrastructure and an expansion in social and culture venues.
Mayor Pulido has worked closely with Senator Feinstein throughout his time in office to help bring needed federal resources and funding to Santa Ana. Their partnership has been incredibly productive for Santa Ana, the County Seat in Orange County.
Senator Feinstein recognizes how hard Mayor Pulido has worked for his community and is looking forward to continuing to work with him in upcoming years.
###
For more information about Mayor Pulido please see http://mayorpulido2012.com/.
For a picture of Mayor Pulido with Senator Feinstein please see http://www.feinstein.senate.gov/public/index.cfm/wallofmayorsgallery