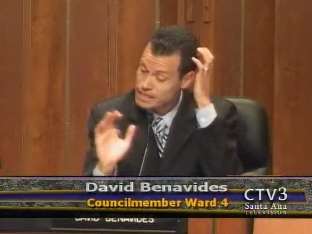 By: Omar Avalos Gallegos, in the Santa Ana Sentinel
The "OC Dems" endorsed a mayoral candidate that because of his lack of critical thinking nearly destroyed the very cornerstone of Santa Ana's renewal: the Santora.
How easy it is for newcomers to this city to lay into the political structure in place when they did not see what the Artists Village was before there was one.
Those that were not here to see the progress cannot talk.
Newbies like Voice of OC instigator Adam Elmahrek and the like.
The Santora was first in having art galleries and a cafe, prior to Grand Central Art Center's arrival and the Gypsy Den. Yet here came along some careless type that risked changing the very nature of the area by selling the Santora to his church!
Not only would that have scrapped any free artistic expression in the Santora, it would have put Elmahrek out of a job! Guess who set the conditions in place for you to have a job in the Santora. I'll tell you who it wasn't: Benavides.
But this is the guy that the so-called Democrats in the area are backing. Like others have said, including Mani Kang, "Orange County Democrats are not real Democrats."
Verily, "Orange County Democrats" are tinged with the Republicanism that prevails countywide.
What's wrong OC Dems? Is the Chivas project to Mexican for you? Is soccer too Mexican for you? Is that why you're turning on Pulido?
Why, to back an ill-advised councilwoman with no political experience that ran for mayor? (Martinez). A councilwoman in a hurry to get to Sacramento and not do her job of representing Ward 2? And this loud figure is who sided with Benavides to back him for mayor and put on mayoral term limits, but forgot to put term limits on her seat. "I don't believe in term limits," she was heard speaking out loud in the downtown recently. Really? Then why try to place limits on the office of mayor? This is complete nonsense and this is part of the power structure that the "OC Dems" are backing.
There is no good contender for this year's mayoral election. There must be a time for a satisfactory contender for the mayor's seat to come, but that time is certainly not now. Not on my watch.