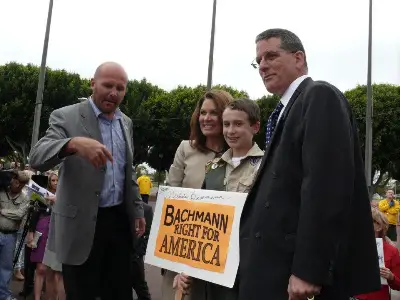 Robert Hammond got 34.5% of the vote in 2010, when he ran for the 69th Assembly District as the Republican nominee.  Incumbent Jose Solorio blew him out with 65.5% of the vote, according to Smart Voter.  Undeterred, Hammond is at it again this year.  This time he is running for the Orange County Board of Education, Area One, after he quit the race for the 69th Assembly District.  I believe he is also running for the 69th Assembly District OC GOP Central Committee.
Hammond has centered his campaign around gay-bashing.  He has an incomplete campaign website, and you can click here to see his Facebook page.
Hammond was recently revealed as the key vote in denying the OC GOP endorsement to U.S. Rep. John Campbell, even though Campbell had graciously endorsed Hammond.  That makes Hammond an honorary Agranista, as Campbell is running against liberal Irvine Mayor Sukhee Kang.  Click here to read about this.
I met Hammond when he came to my door in 2010, looking for votes.  He spoke about "family values" and mentioned gay marriage.  Like most of his fellow Republicans he is against allowing people who swing a different way to get married. He is also anti-choice.
Hammond is a former Marine, but I don't think he served in combat.  He has a degree in communications and apparently has done some teaching, but he does not list the schools he reportedly taught at.
Hammond has been supported by some of the biggest Mexican haters in Orange County, including Congressman Dana Rohrabacher.  It is as such ironic that he is holding a fundraiser on March 24 that will feature a homemade enchilada dinner.  Unbelievable.  These people hate Mexican immigrants but they love Mexican food!
When Hammond ran for the Assembly one of his campaign issues, according to Smart Voter, was "Introduce a Free Enterprise bill which would make it manditory for our Midle & High schools to teach about business ownership and mentorship."  Yes, he misspelled the word "Middle."  And yes, that is a ridiculous idea.  Our teachers already have too many federal and state mandates to deal with – piling on yet another intrusion into the classroom is not a good idea at all.
I have no idea what other ideas Hammond has about education, but one can only imagine what those ideas might be…
Area One includes the cities of Santa Ana, Tustin, Fountain Valley and Garden Grove.  It is a majority Latino district that was represented by Republican Long Pham until he decided not to run for reelection this year.  Pham is running for the 72nd Assembly District instead.
Other candidates for Area One include Ken Nguyen, Eleazar Elizondo and I am running as well.  I believe that I am the only candidate who is actually a current teacher.