An OC GOP insider gave me the scoop tonight on what really led to Republican Robert Hammond quitting the primary race for the 69th Assembly District – at the very last minute, last Friday, which was the filing deadline for that race.  Hammond ended up pulling papers for the Orange County Board of Education's Area One.
What my source told me was pretty much what I expected.  Hammond did not come up with this scheme himself.  Apparently Supervisor Janet Nguyen and OC GOP Chairman Scott Baugh were the ones that advised him to leave the Republican Party of Orange County hanging, with no candidate in the 69th A.D.
Why would Nguyen and Baugh do this?  Simple.  Longtime Republican consultant and former State Senator John Lewis has been openly backing Democrat Tom Daly, who is also a candidate for the 69th Assembly District, for some time.  Pulling Hammond out of the 69th A.D. primary was a gift to Daly, who as an anti-Latino white Democrat stood to pick up some of Hammond's votes.
Remember that the other Democrats did not do well, when Daly's campaign polled the voters a few weeks ago.  Daly and his backers figured to do better against another Democrat, in a primary with four Democrats in the race, absent a Republican.  And Daly was betting that in the general election he would pick up the GOP voters and win going away, in a Latino district.
Now the whole scheme has been revealed – and even better, a Republican in Anaheim, named Jose Moreno, entered the race this week, as I reported yesterday, as the filing deadline had been extended until this Wednesday.  Now Nguyen and Baugh's scheming is to no avail.  And Moreno stands to get a lot of votes, as he shares the same name as popular Democratic Anaheim school board trustee Dr. Jose F. Moreno (pictured above).  You bet that some voters, in the open primary, will vote for Moreno – depriving Daly and the other Democrat from Anaheim, ultra-liberal union hack Julio Perez, of their votes.  Beautiful!
The downside of Hammond's last minute exit from the 69th A.D. primary, and the OC GOP's failure to replace him (and the party leadership's subsequent failure to support Moreno) sends a message to the voters in the 69th A.D. that the Republican Party has written them off.  Wrong message to send in a Presidential primary election!
This entire episode is a shameful one for Nguyen and Baugh.  Nguyen is running again for the First District, on the Orange County Board of Supervisors.  Republicans in the district should remember her duplicity and vote instead for her surprise challenger, Steve Rocco (pictured above), who is a bit off his rocker, but at least he isn't the backstabber that Nguyen is.  As for Baugh, it is about time for the Republicans to toss him on his rear.  The fact that a lobbyist is their party chairman should disgust any Orange County Republican who actually has any ethics.
It should be noted that when Moreno asked Baugh and other party leaders to help him pay for his ballot statement, they all refused.  Of course they did.  They were already in Daly's corner.  Well, he won't need that ballot statement.  Just being on the ballot may push Daly out of the "top two," which would be just desserts for Daly!  I expect Santa Ana Council Member Michele Martinez to advance to the November general election.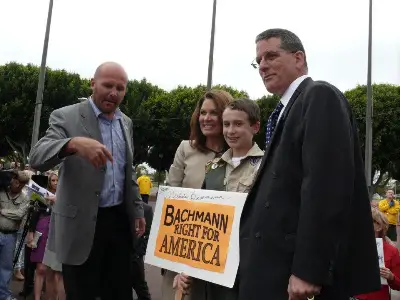 As for Hammond (pictured above, on the extreme right), his mistakes did not end with his ridiculous exit from the 69th A.D. contest.  He issued a press release that made gay bashing the centerpiece of his sure to be a failed race for the O.C. Board of Education.  His press release was so onerous that it drew ultra liberal Eleazar Elizondo, a Democrat, into the contest.  Now Hammond will have to spend money, because Elizondo surely will.  As I reported on Wednesday, when I ran into Elizondo at the O.C. Voter Registrar's office he paid for his ballot statement with a huge was of hundred dollar bills.
I will also be running in the O.C. Board of Education, Area One, election.  As a longtime resident of Santa Ana, who has actually been heavily involved in our community, as opposed to Hammond – who has not, I figure to get plenty of votes – especially given that I barely lost my SAUSD School Board race in 2010, by 1,400 votes, while spending nothing, while the incumbents in that race each spent over $40,000 on their campaigns.
In the end Hammond will have screwed his party for no damn reason.  And Nguyen and Baugh will be quite damaged in the process.  They are both also running for the OC GOP Central Committee in the June primary.  Republican voters, take note.