Ultra-liberal O.J. blogger Greg Diamond has publicly questioned the results of a poll recently conducted by Tom Daly's campaign for the 69th Assembly District, in an Orange Juice blog post, and in comments he left over at the OC Political blog.  Diamond was irked by the poll as it revealed that Diamond's pick in that race, union hack Julio Perez, is the least popular of the five candidates who are running.
But now we have gotten a hold of the Daly poll press release.  And guess what?  Daly used a reputable pollster, David Binder Research, who has worked for some of the most liberal Democrats in California and elsewhere, including:
President Barack Obama's campaign
State Senator Debra Bowen
State Senator Gilbert Cedillo
State Senator Christine Kehoe
State Senator Carole Migden
Mayor Gavin Newsom, San Francisco, CA
and the California Democratic Party, as well as the California Assembly Democrats
In the ballot test, Daly got 25% of the vote, while Michele Martinez got 13%, Julio Perez was at the bottom, with 4%, Francisco Barragan got 5%, and Robert Hammond got 25%.
Brea's Greg Diamond
Did Diamond intend to libel a legitimate Democratic pollster?  Here are some of the ridiculous comments Diamond made:
You guys are hilarious. I'm sure that the methodology used to obtain these "polling results" that you "got a hold of" is a tightly kept secret, right? Willing to share the ethnic composition of the sample, or is that proprietary information?
That you don't question the Daly poll is what's nuts, Art. But if you ask nicely, maybe they'll give you the complete wording of the questions (including the delightful introductions to each candidate), sampling frame obtained sample composition (by gender, geography and race/ethnicity), and the other goodies that an actual survey researcher would like to see but that are somehow missing from this story. Dan Chm…ski actually had a pretty good analysis of some of the obvious deficiencies. (Well, they're obvious to those of us who aren't Republicans trying to knock out the reformist Democrats, at least.) What this shows me is that if you hire a solid pollster like David Binder to do a shoddy and misleading poll, he can still find a way. Maybe he gave the job to the high school interns.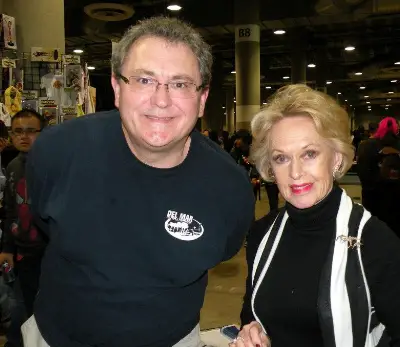 Irvine's Dan Chmielewski, and a friend
Liberal OC blogger Dan Chmielewski libeled Binder too, "The bottom line — it's an unscientific poll with a questionable sampling which is more tied to candidate name recognition than actual support.  It's been shopped around for a few days and published in the blogsphere without any critical analysis.  The folks at David Binder Research ought to be embarrassed by this shoddy work and the Daly campaign ought to be embarrassed for paying for this poll."
As I wrote in a previous post this week, Barragan and Perez need to drop out NOW, or else they will be blamed if Daly and Hammond win the top two open primary.  I will personally also blame the labor stooges who are backing Perez.
Daly and Hammond are both anti-Latino.  Is that what we want for the 69th Assembly District?  Martinez is clearly the most viable of the three Democratic Latino candidates.  But Diamond and Chmielewski are obsessed with the socialist union hack Perez.  If Daly prevails, they too will be responsible for this train wreck.
Why do Diamond, a liberal who lives in Brea, and Chmielewski, a white liberal in Irvine, think that they have a right to impose their will on the voters in the 69th Assembly District?  Shouldn't Diamond be tending to his campaign against GOP State Senate leader Bob Huff?  Then again, Huff is going to trounce him in June.  And shouldn't Chmielewski be tending to the failing Congressional campaign of Agranista Sukhee Kang?